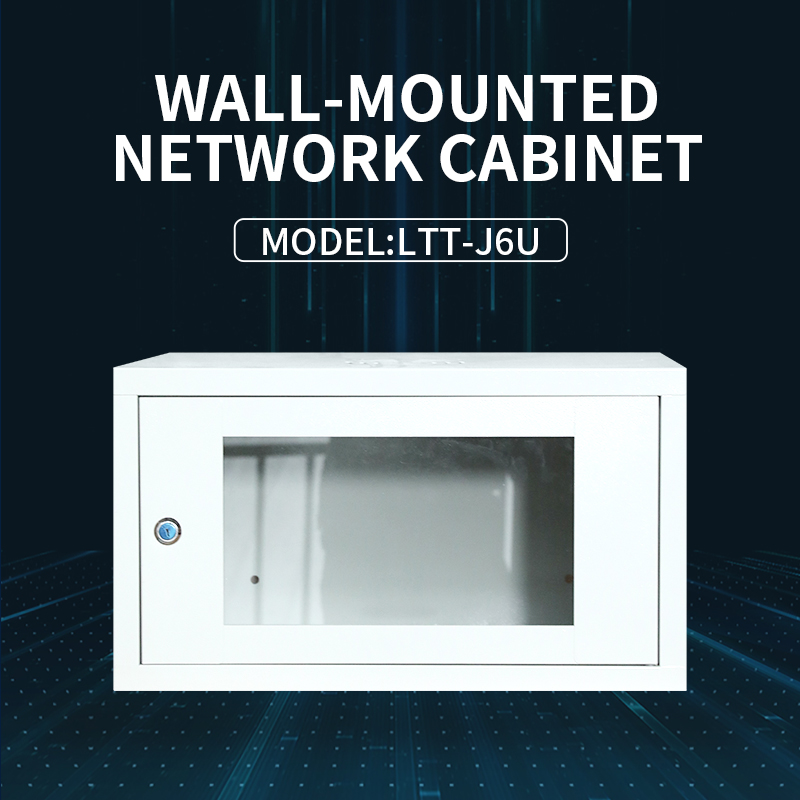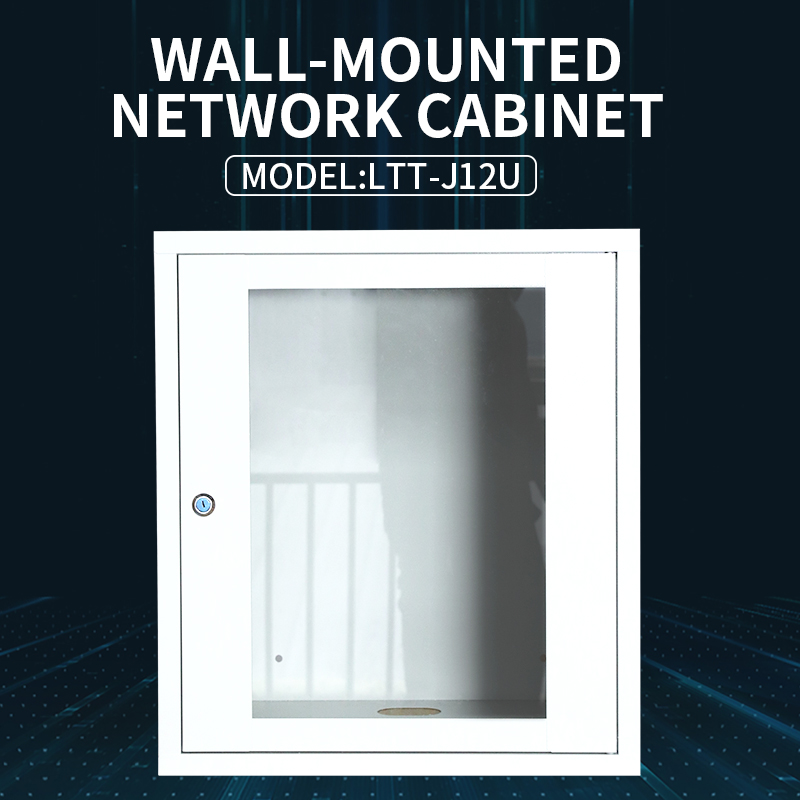 Server Machine: Network Cabinet
Disassembly and assembly patent: cabinet, cold-rolled steel plate, support for custom floor-standing cabinets
TV wall/monitoring pole
product details:
360° cooling holes/
The overall through-hole rate of the cabinet is as high as 70%
All-round heat dissipation without dead ends
Heat-absorbing fan/tectic fan
Cross-spiral air-cooled design with thick wires to ensure smooth operation of the fanMany people think of a cabinet as a cabinet for holding IT equipment. Cabinets are cabinets, but not just that. For the computer itself, the cabinet also plays an important auxiliary role with the UPS power supply. A good cabinet means ensuring that the computer can run in a good environment. Therefore, the role played by the cabinet is equally important. The cabinet systematically solves the problems of high-density heat dissipation, a large number of cable attachment and management, large-capacity power distribution and comprehensive compatibility with rack-mounted equipment from different manufacturers in computer applications, so that the data center can operate in a highly stable environment .
Various styles of cabinets can be seen in major computer rooms. With the continuous breakthrough of the computer industry, the functions embodied by the cabinets are also increasing. Cabinets are generally used in network wiring rooms, floor wiring rooms, central computer rooms, data computer rooms, control centers, monitoring rooms, monitoring centers, etc.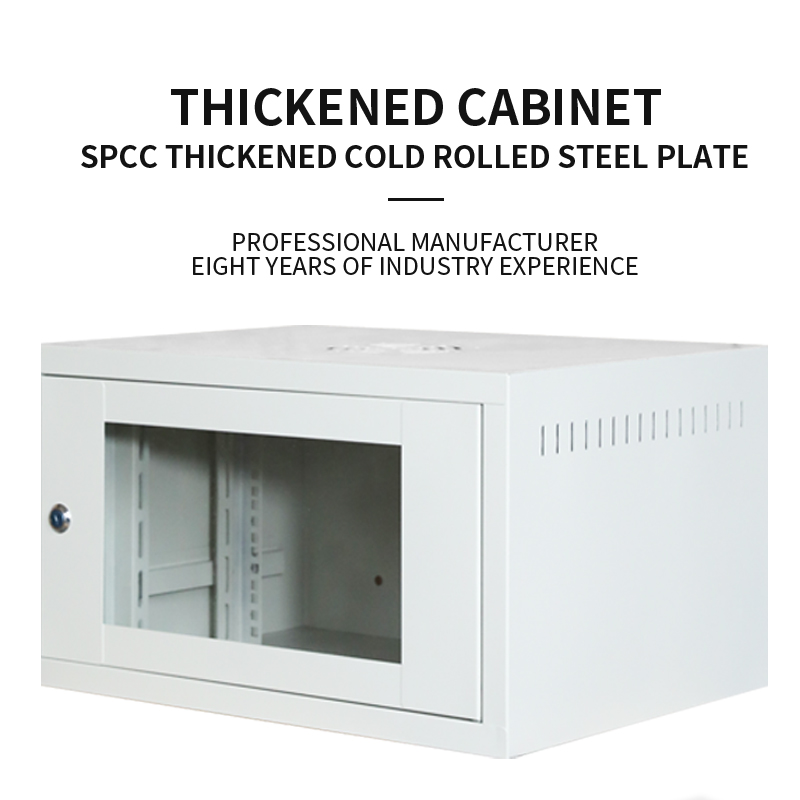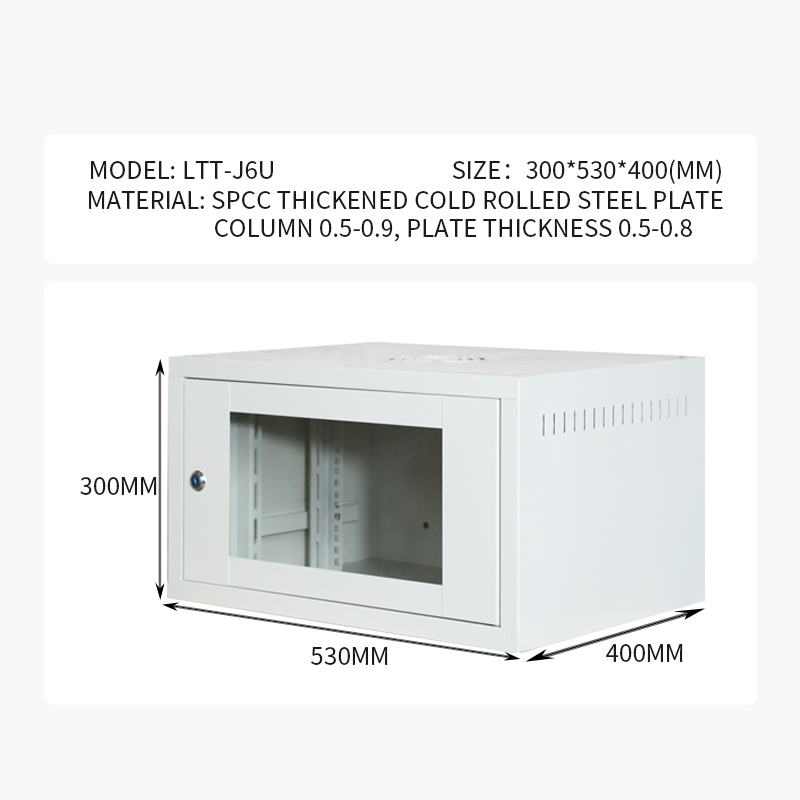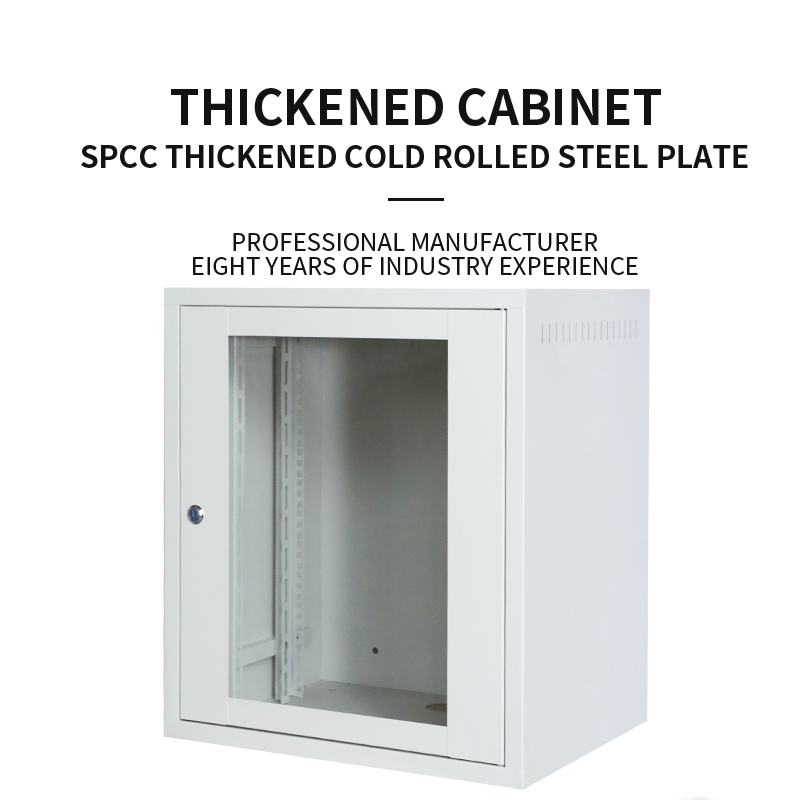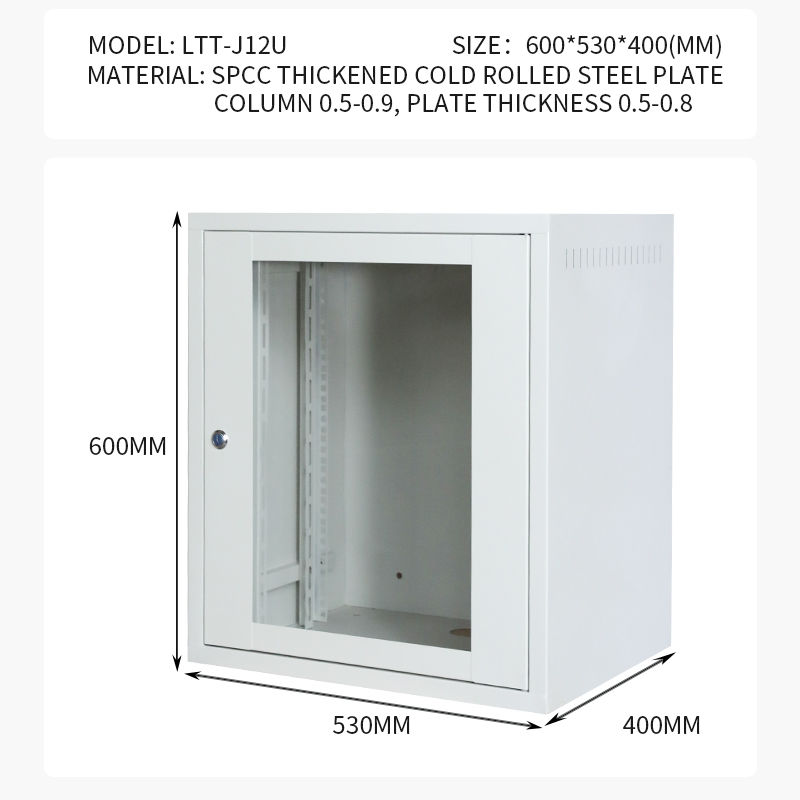 Common cabinet colors are white, black and gray. (There are many types of them, such as orange pattern, fine sand pattern, etc.); Cabinets are divided according to materials, including aluminum profile cabinets, cold-rolled steel cabinets, and hot-rolled steel cabinets; according to the processing technology, there are 10% off profiles Cabinets and 16-fold cabinets, etc.
The type of plate, coating material and processing technology determine the stability of the cabinet. Generally, its length specifications are 600,800mm, width specifications are 600,800,1000mm, and height specifications are 42U, 36U, 24U. Most of the cabinets used in the early days were made of castings or angle steel by screws, rivets or welded into the cabinet frame, plus a cover plate (door) made of thin steel plate. This kind of cabinet is bulky, bulky, and simple in appearance, and has been eliminated. With the use of transistors and integrated circuits and the miniaturization of various components, the structure of the cabinet is also developing in the direction of miniaturization and building blocks. The cabinet has been developed from the entire panel structure in the past to a sub-box and plug-in structure with a certain size series. The assembly and arrangement of sub-boxes and plug-ins are divided into two types: horizontal arrangement and vertical arrangement. Cabinet materials generally use thin steel plates, steel profiles with various cross-sectional shapes, aluminum profiles and various engineering plastics. In addition to welding and screw connection, the frame of the cabinet also adopts the bonding process.
Cabinets can be divided into two basic structures: profiles and thin plates according to the load-bearing, materials and manufacturing processes of the components.
①Profile structure cabinet: There are two kinds of steel profile cabinet and aluminum profile cabinet. The steel profile cabinet is composed of special-shaped seamless steel pipes as columns. The rigidity and strength of this type of cabinet are good for heavy equipment. The aluminum profile cabinet composed of aluminum alloy profiles has certain rigidity and strength, and is suitable for general or light equipment. This kind of cabinet is light in weight, less in processing and beautiful in appearance, and is widely used.
②Thin-plate structure cabinet: a whole-plate cabinet whose side plate is formed by bending a whole piece of steel plate. This kind of cabinet has good rigidity and strength and is suitable for heavy or general equipment. However, since the side plate cannot be disassembled, it is inconvenient to assemble and maintain. The structure of the bent plate column cabinet is similar to that of the profile cabinet, and the column is formed by bending the steel plate. This kind of cabinet has certain rigidity and strength and is suitable for general equipment.
Cabinets are also fitted with cabinet accessories as required. Its main accessories are fixed or retractable guide rails, locking devices, hinges, wiring troughs, wiring racks and shielding comb-shaped reeds, etc.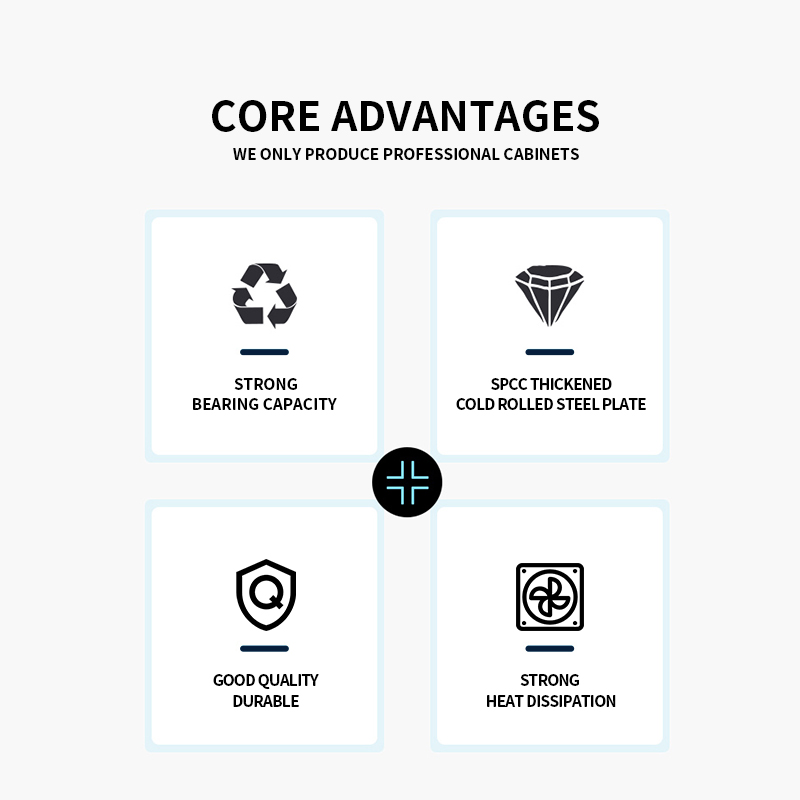 Chengdu Wolf Brand Metal Products Co., Ltd. (hereinafter referred to as: Wolf Totem Cabinet) is a high-tech enterprise integrating the overall solution of computer room engineering and the research and development, production, sales and service of high-end network server cabinets. Its "Wolf Totem Cabinet" has a relative advantage and authority in the field of high-end cabinets, has won a high reputation in the industry, and has won great trust and respect from users and partners.
Looking forward to the future, "Wolf Totem Cabinet" will be based in Sichuan, look at the whole country, and go to the world. With the responsibility of promoting Chinese quality and inheriting the spirit of craftsmen, all colleagues of "Wolf Totem Cabinet" will always be committed to the development of China's server cabinet business. On the road full of challenges and opportunities, we will continue to explore and forge ahead.
Wolf Brand Company was established in 1997. Under the favorable conditions of national policy and market demand, it has been able to develop by leaps and bounds in the field of server cabinets. The existing factory covers an area of ​18,000 square meters, has an overall processing production line and advanced equipment, and produces 60,000 sets of cabinet products annually, which is at the leading level in the industry. In the long-term development of the company, a team of highly skilled senior technical personnel has been accumulated, with more than 350 employees, including 8 senior engineers and 26 senior technicians. Under their leadership, the company actively cooperates with domestic well-known mechanical and electrical information universities. Work together to tackle product research and technical problems, so that product quality, performance, safety and other fields have been rapidly improved, making great contributions to the development of enterprises and industries.
The wolf totem cabinet, which has undergone many trials and tribulations, has continuously tempered the quality of its products and has been constantly innovating. There are more than 50 standard cabinet products and more than 10 patented products. Among them, the new patent "Easy to disassemble the cabinet" has won the "Sichuan Provincial Science and Technology Product Innovation Achievement Award", which is far superior to other similar products in the market in terms of product transportation and disassembly.
26 production processes and 17 product quality inspections have created the trust of customers. "Wolf Totem Cabinets" adhere to the implementation of ANSI/ARS310D, IEC2972972IN41491, PATI, DIN4194, PART, GB/T30041.2-92 industry standards, and product quality has passed ISO9001 quality Product system certification, and in line with RoHs environmental certification.
So far, our company has successfully provided products and services for more than 3,500 server rooms, and the cumulative sales volume has exceeded 2.4 million units. "Wolf Totem Cabinet" has become a rapidly developing innovative technology enterprise in the cabinet industry.

"Wolf Totem Cabinet" - only to make the cabinet to the extreme, let the world fall in love with Chinese quality!
Contact Person:Han Min
Email:ltt6288@gmail.com 1686852852@qq.com
Disclaimer: This article is reproduced from other media. The purpose of reprinting is to convey more information. It does not mean that this website agrees with its views and is responsible for its authenticity, and does not bear any legal responsibility. All resources on this site are collected on the Internet. The purpose of sharing is for everyone's learning and reference only. If there is copyright or intellectual property infringement, please leave us a message.