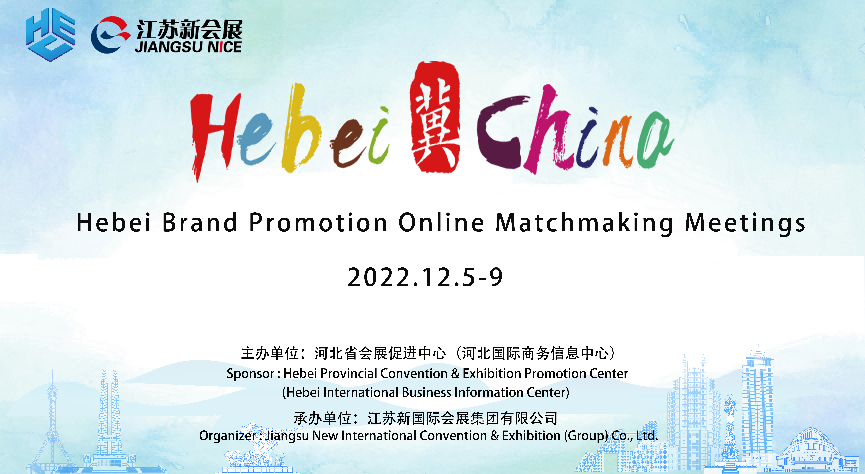 The program"Hebei Brand Promotion" , guided by Hebei Provincial Department of Commerce and organized by Hebei Provincial Convention and Exhibition Promotion Center, integrates promotions, exhibitions with business negotiations, aiming to promote Hebei brands to the world. The program takes "Brand Hebei, Win-Win Cooperation" as the theme,through a series of activities on publicity and promotion, business matching and negotiation, exposition and displaying etc., It forges an online and offline mutual linkage, publicizes and supports self-owned brands in Hebei Province to improve the popularity and competitiveness.Through the activity, Hebei's export volumn could be facilitated as well as its quality and added value of products improved.
The event will be held from 12 to 16,December,2022, inviting global enterprises to participate in this event and Hebei Enterprises in-depth exchanges, to promote trade with Hebei Enterprises, the exhibits include: Traditional Chinese medicine, textile, hardware, building materials, daily consumer goods, etc. . Please contact Edison if you need to attend, email address: 892506264@qq.com
Disclaimer: This article is reproduced from other media. The purpose of reprinting is to convey more information. It does not mean that this website agrees with its views and is responsible for its authenticity, and does not bear any legal responsibility. All resources on this site are collected on the Internet. The purpose of sharing is for everyone's learning and reference only. If there is copyright or intellectual property infringement, please leave us a message.