Recently, the 2022 World Internet Conference "Internet Light" Expo hosted by the World Internet Conference and the People's Government of Zhejiang Province, opened in Wuzhen, Zhejiang. It was supported by the Cyberspace Administration of China, the Ministry of Science and Technology, and the Ministry of Industry and Information Technology. With the theme of "Building a Digital World, Creating a Digital Future-Working Together to Build a Cyberspace Community", guests from more than 120 countries and regions participated in the expo online and offline.
As one of the industry-leading AI technology and product providers in China, Hangzhou Linker Technology was invited to release its new products and technologies. Chief Scientist Dr. Tiancheng Zhao lectured and highlighted OmVision Studio, the world's first no-code computer vision app development platform based on large-scale pretrained vision-language models, sharing its technical innovation, its use cases, and its ambition to democratize AI to every developer in the community.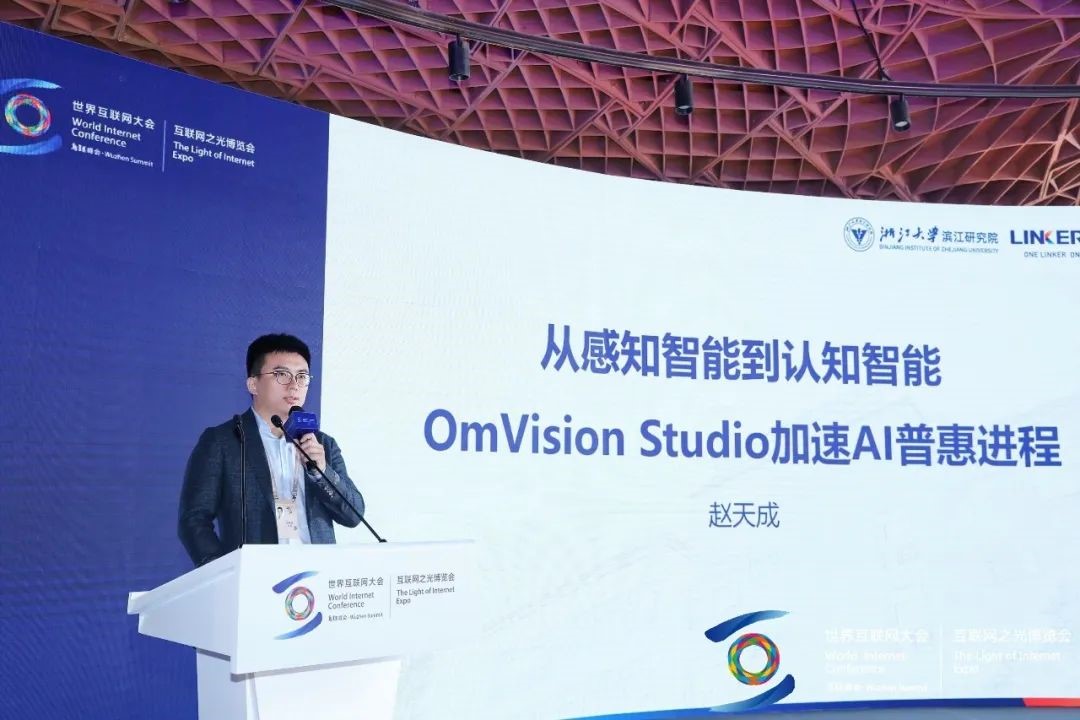 Dr. Zhao showed that during the digital and intelligent transformation, cognitive intelligence is a key technology to achieve mass adoption of AI technology.
Cognitive AI is a general-purpose intelligence that provides a solution for long-tail scenario applications in numerous industries, effectively capturing knowledge from a large number of labeled and unlabeled data by using the "large-scale pre-training model + downstream task fine-tuning" method. Cognitive AIcan greatly reduce the cost for creating and deploying AI models, and improve the adaptability of the AI model In real-world scenarios.
One of the core innovations of Linker Technology is OmModel, a large-scale pretrained vision-language model that is pre-trained on billions of text, image and video data. The model is able to fuse natural language with visual input and serve as a foundation model for general-purpose computer vision that can easily adapt to any new domains and tasks with zero-shot or few-shot learning.
OmVision Studio is another step of evolution on top of the fundamental abilities of OmModel.
OmVision Studio creates a new paradigm of AI app building with a zero-code and zero-shot AI development platform. It resembles closely to "Lego Building", where the large-scale pre-trained model can recognize numerous basic visual elements (Lego parts) without the need for further human supervision. The user of OmVision Studio can then focus on "building" AI apps by combining these basic elements via a graphical interface and simple rules.
Further, OmVision Studio provides a complete pipeline for building computer vision AI apps for industry solutions. It promotes a 3-step process that includes "zero-shot cold start, few-shot fine-tune and online adaption" that leads to a more effective outcome. This process has been widely verified in a large number of domains, including smart cities, digital security, smart transportation, health care and etc. Especially when dealing with long-tail AI applications (which contribute to 80% of the AI market), an IT solution provider can use OmVision Studio to greatly reduce its labor and time cost for developing computer vision models for visual recognition. OmVision Studio enables domain experts who have no AI expertise to create AI apps that truly solve domain problems, a significant step towards the democratization of AI for everyone.
City: Hangzhou · CHINA Company Name: Hangzhou Linker Technology Co., LTD
Website: www.hzlh.com
Telephone: 0571—88390065
Contact: Giraffe
Email Address: marketing@hzlh.com
Disclaimer: This article is reproduced from other media. The purpose of reprinting is to convey more information. It does not mean that this website agrees with its views and is responsible for its authenticity, and does not bear any legal responsibility. All resources on this site are collected on the Internet. The purpose of sharing is for everyone's learning and reference only. If there is copyright or intellectual property infringement, please leave us a message.